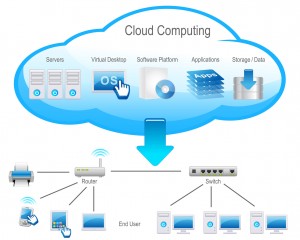 Here in Multiscope, we like to help our customers and visitors with the new innovative technology services we offer and buzzing everywhere…by starting:
What is Cloud Computing? Cloud Computing is simply the delivery of computing software application services and data stored resources through the Internet or a network, instead of an organization own hardware. It is the broader concept of converged infrastructure and shared services which enable users to access systems resources using a web browser regardless of their location or device they use.
Why choose Cloud? Cloud-base solution give businesses the opportunity to take advantage of uptime, scalability, optimization as well as allows businesses to avoid upfront infrastructure cost, minimum maintenance and enables business to adjust resources to meet fluctuating and unpredictable business demand  so they can focus solely on their businesses instead of on infrastructure needs.
Multiscope offer different type of public, private, hybrid cloud-based solution services, as well as help protect your data and information, all depending on your business needs.
During consultation, Multiscope's team of expert will evaluate your current environment, drill down into details as well as unveil the different options that will help your business and the "pay-as-you-go" systems.
Below are some of the Cloud Computer Solution we offer to our clients and customers:
Microsoft Office 360
Microsoft Dynamics CRM
NetSuite